you shouldn't have to limit the enjoyment of your outdoor rooms once the sun has set.
Enjoy your outdoor living spaces well into the evening
A well-designed patio or deck lighting system will transform your outdoor living spaces at night, drawing you and your family out to enjoy them well after the sun sets.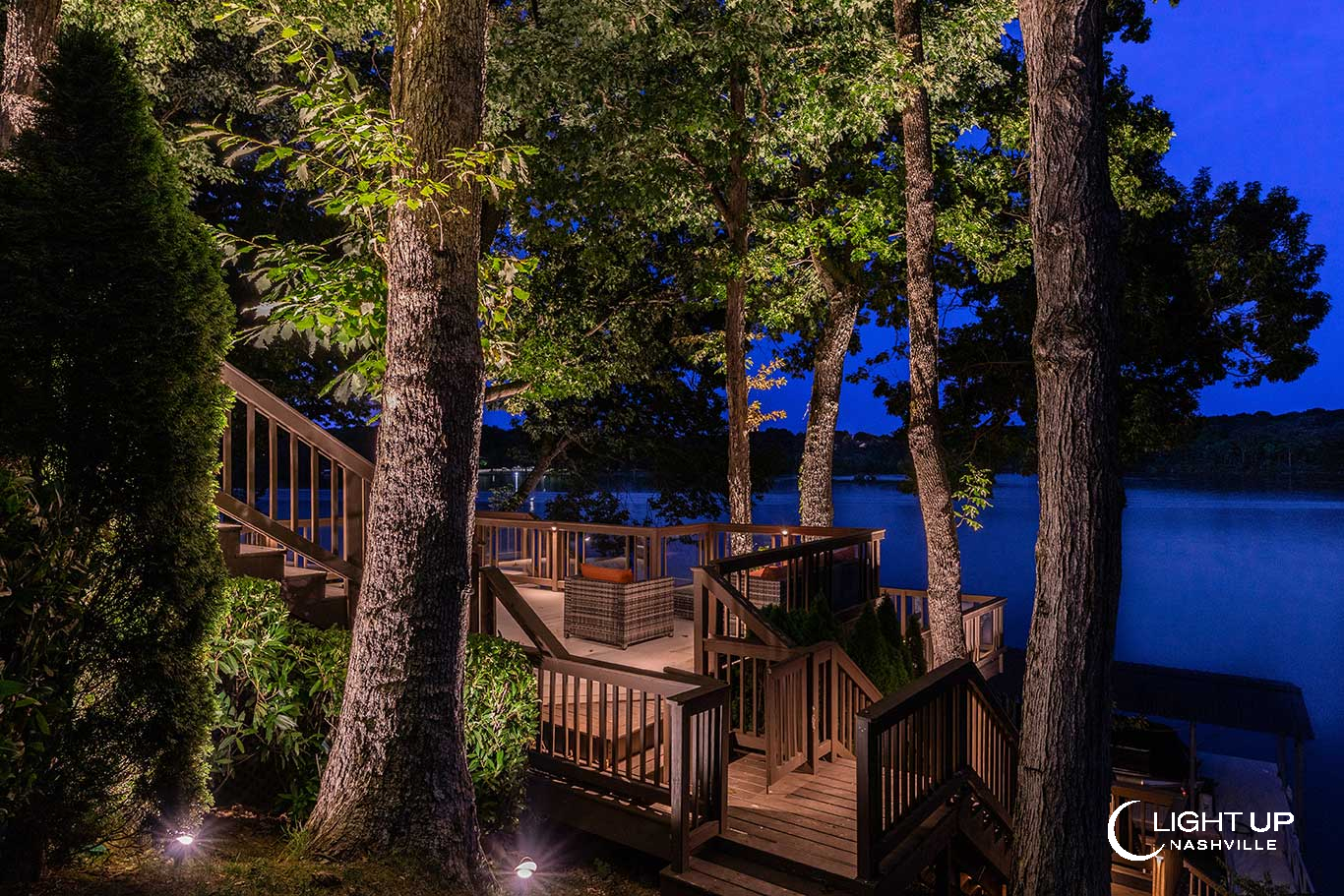 Patio and deck lighting will transform your outdoor amenities into new and more intimate spaces in the evening. Whether you enjoy grilling, dining outdoors, or entertaining friends and neighbors, a thoughtful outdoor lighting plan will have you enjoying these areas even more during the evening.
Light Up Nashville's team of professionals have installed outdoor kitchen lighting, hardscape lighting, stairs lighting, pool patio lighting, and more based on each home's unique characteristics. All aspects of your outdoor spaces and your use of them will affect your custom lighting plan. When designed correctly, outdoor lighting will provide beauty and purpose by creating intimate spaces for the family to gather, delivering a safer environment to navigate, and enjoy well into the evening.
Don't let the dark limit your time spent with family and friends. Make your outdoor spaces even more enjoyable at night with our deck lighting services so you can create more memories that last a lifetime.
More than Just Deck Lighting, We Can Help Light All Your Outdoor Living Spaces
Firepit Lighting
Create an intimate setting for evening gatherings and encourage spending even more time with friends and family outside.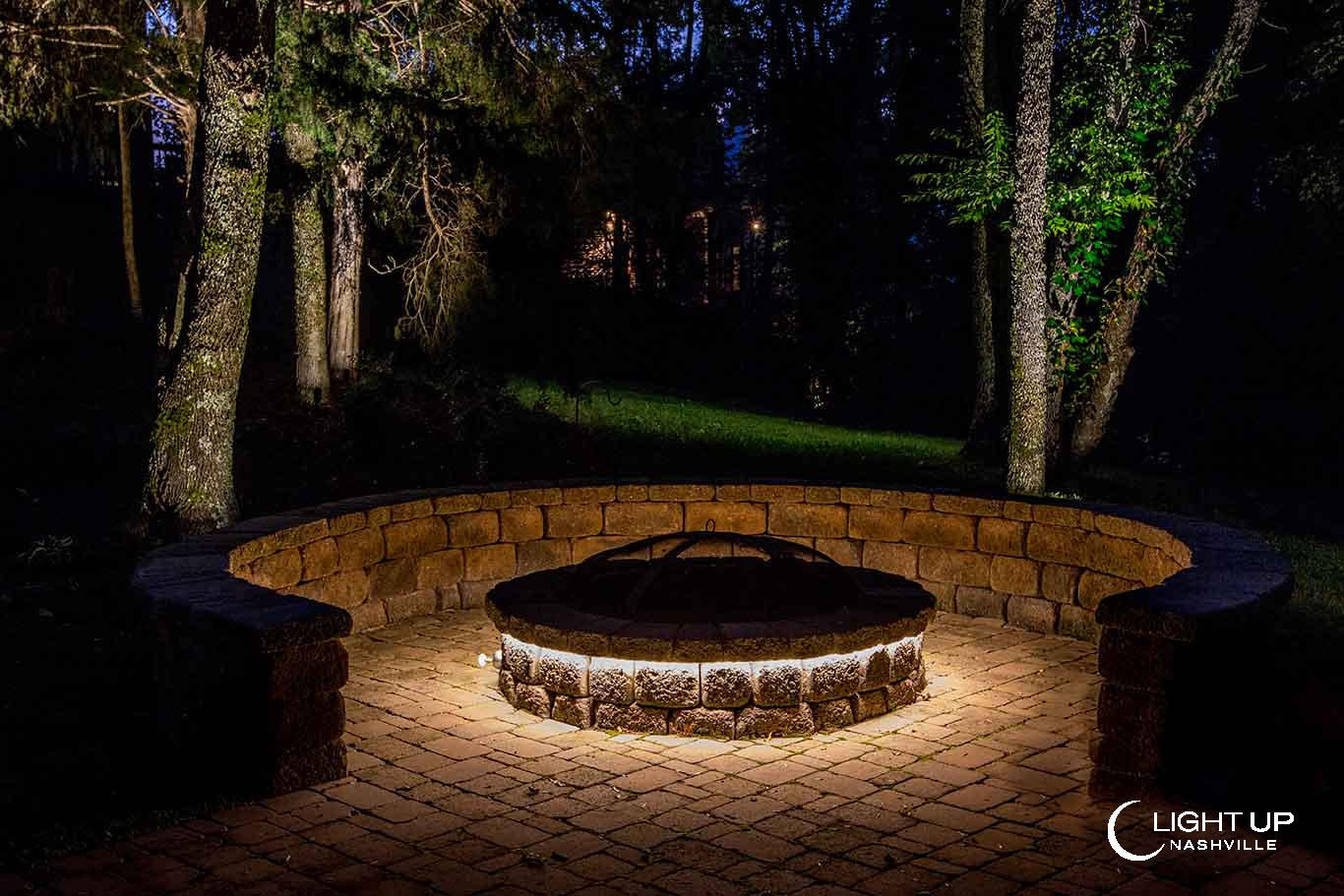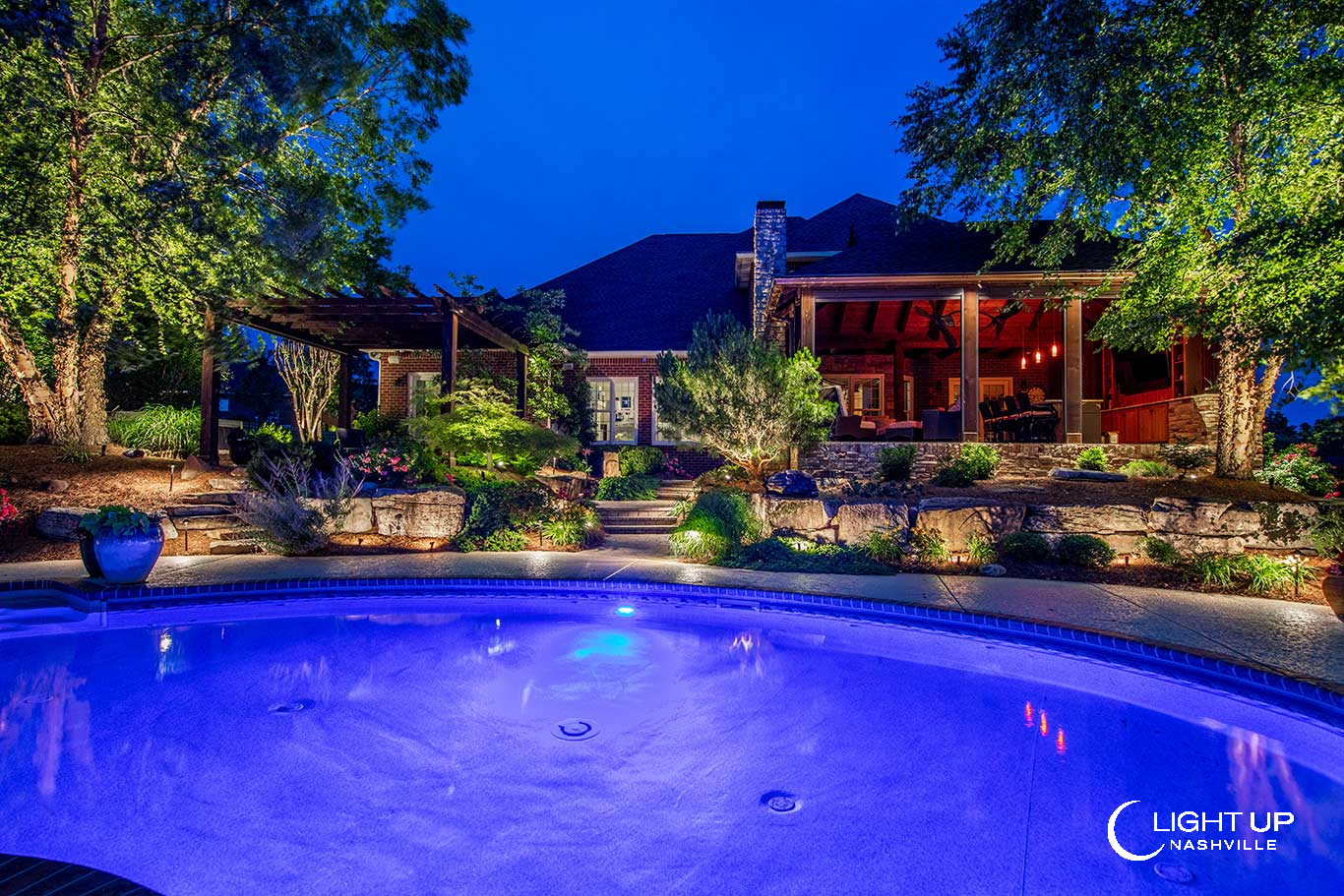 Pool and Patio Lighting
Provide visibility and create a safe environment at night for all types of activities with our pool deck lighting services. Don't let the evening prevent you from thoroughly enjoying all your home has to offer.
Outdoor Kitchen Lighting
Enjoy lighting that is both beautiful and functional. Transform your cooking and dining experience into a resort-style feel right at home with our outdoor kitchen and deck lighting installations.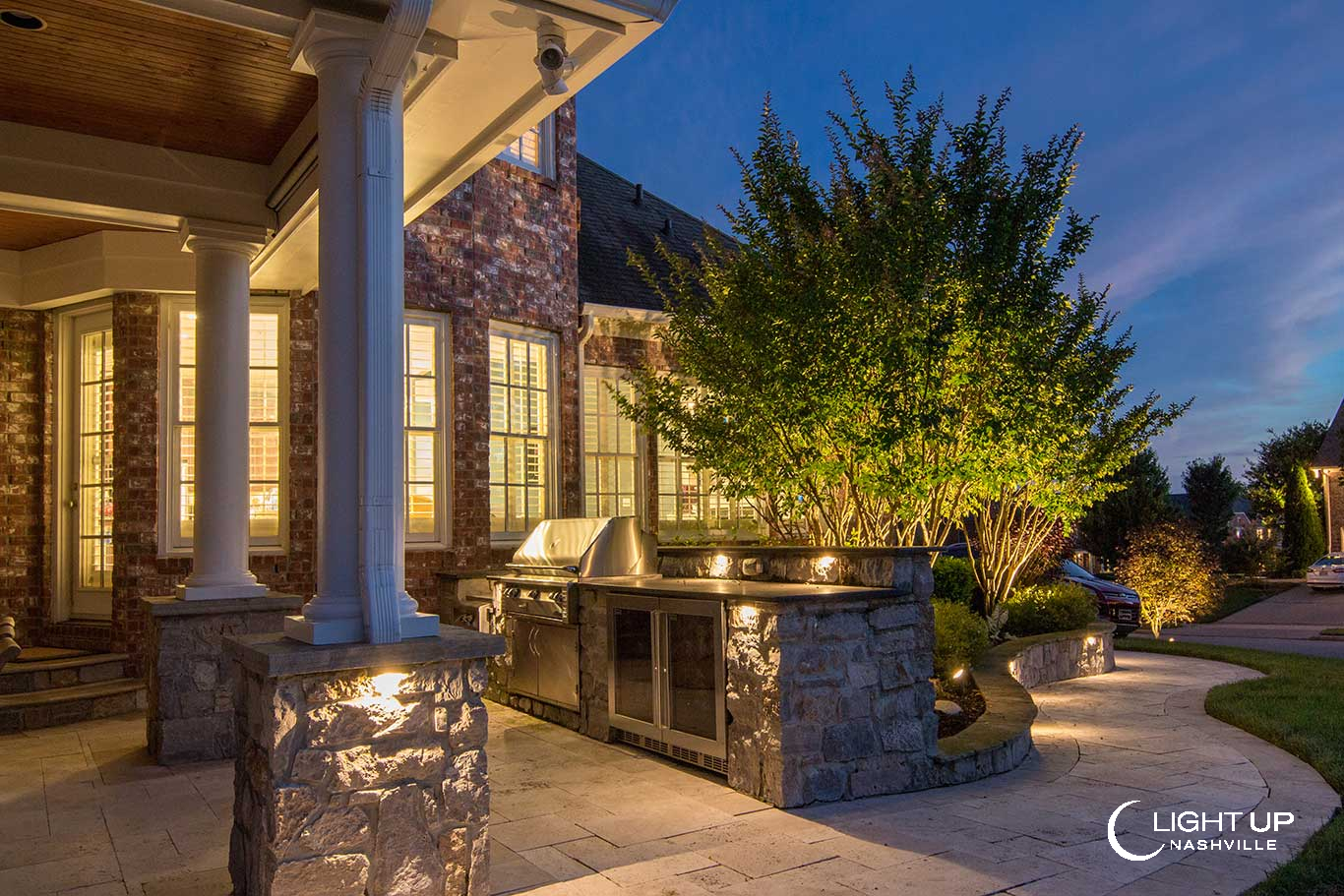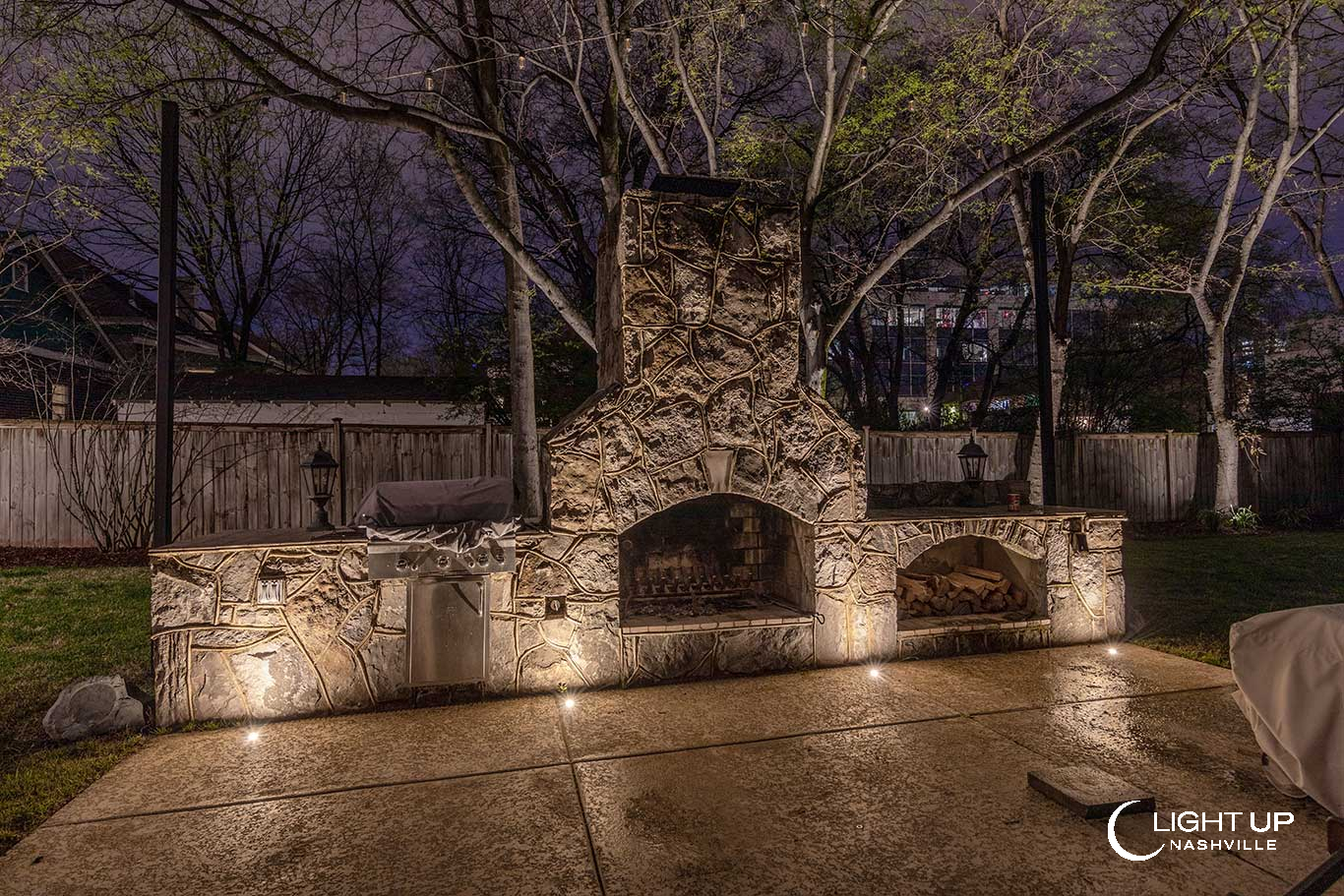 Outdoor Fireplace Lighting
Outdoor fireplaces are a wonderful place to enjoy with loved ones. Accent deck lighting will create an intimate space to enjoy time with loved ones into the evening. Don't let the evening prevent you from thoroughly enjoying all your home has to offer.
Enhance the Value of Your Home
What if your patio looked like this in the evening?
Outstanding lighting and exceptional customer service! Pelham, thanks for customizing our plan and going above and beyond to execute it to our complete satisfaction. We had existing lights that were satisfactory and thought that it would be difficult to improve upon. Not only are the new lights energy-efficient but the illumination of the architectural details of our home is incredible. Simply stated, Light Up Nashville sold us a high-quality product with excellent service. I would highly recommend them!"
Our simple three-step process makes it easy.
1. Schedule a home visit
---
Together, we walk your property and discuss your particular needs.
2. Get a quote.
---
We'll review and approve your lighting design together.
3. Enjoy your home day or night.
---
We install the lighting so you can enjoy evenings the way you've always wanted.
Top Quality Brass Lighting Fixtures
We only install top quality fixtures made from heavy metals such as brass and copper. 
Most of the fixtures that we install come with a lifetime warranty and are made in the USA.
Brass Directional Up Light

anemptytextlline

Brass Tree Mounted Downlight

anemptytextlline

Brass Path Light

anemptytextlline

Brass In-Ground Well Light

anemptytextlline
"We only sell top-quality lighting fixtures and LED lamps that are made-in-the-USA and come with a lifetime warranty. Sadly, our industry has mass-produced Chinese imports that our competitors install, which leads to constant failure and replacement. We never put our customers in that situation. Your lighting should consistently add value to your home for many years to come."
Other Popular Lighting Services