Fully Enjoy Your Home & Property at Night!
Professional Design and Installation of Architectural and Landscape Lighting
You own a beautiful home and should be enjoying it all the time.
Unfortunately, poor outdoor lighting is keeping you from…
Improving your home's value
Proudly displaying your home at night
Feeling fully secure after dark
Safely walking your property
Entertaining guests in the evening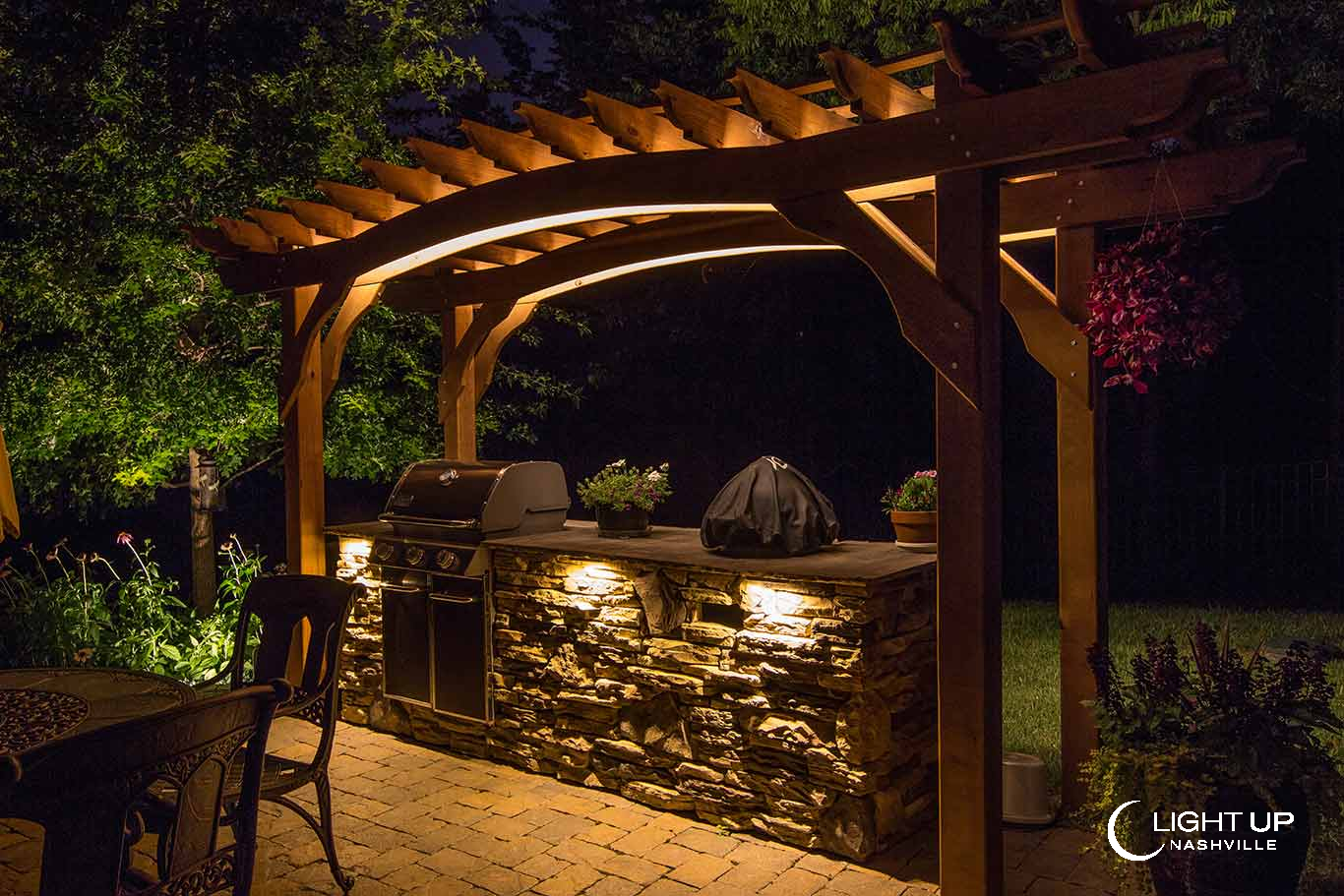 Dine, Entertain, and Enjoy After Dark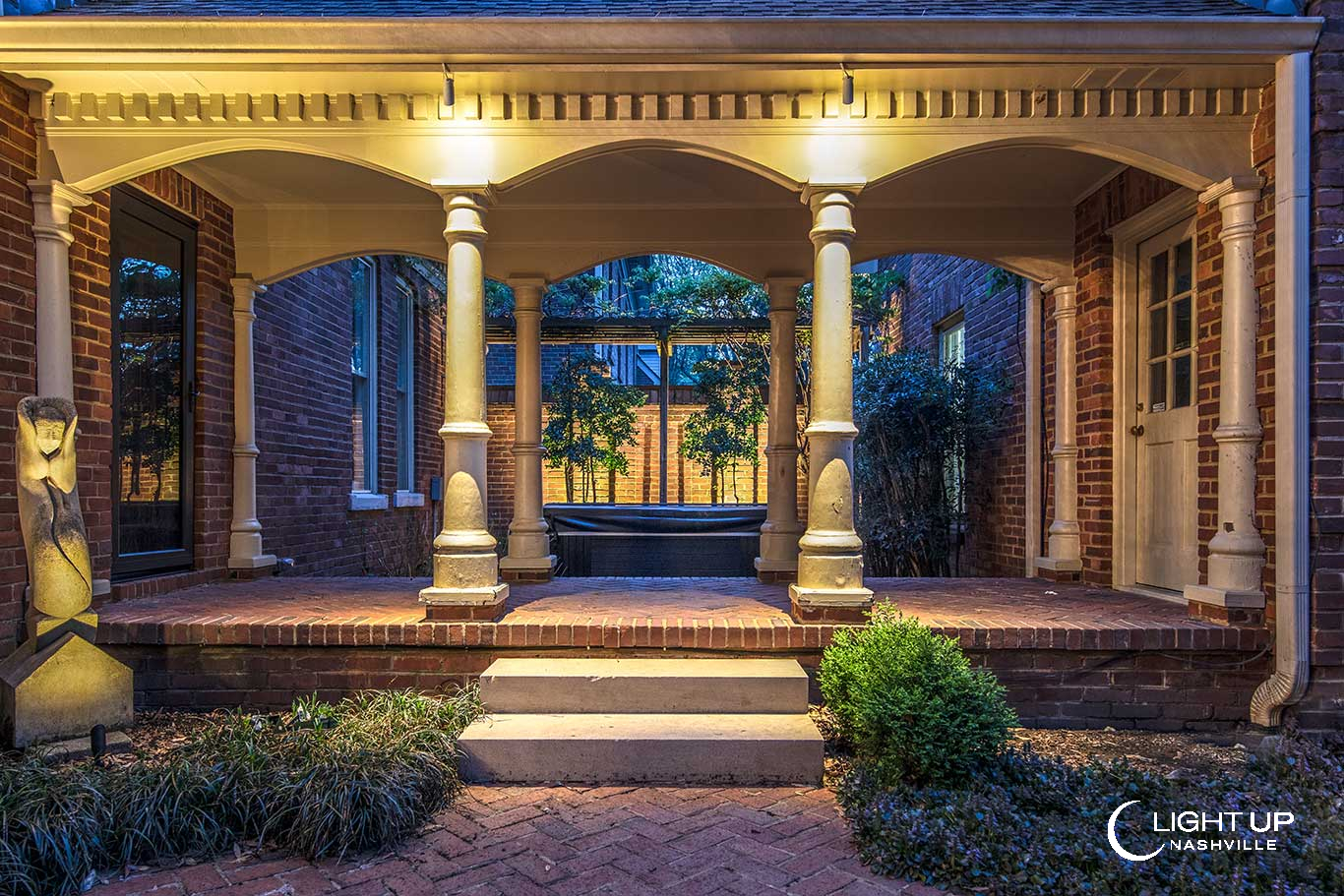 Improve Safety and Security at Night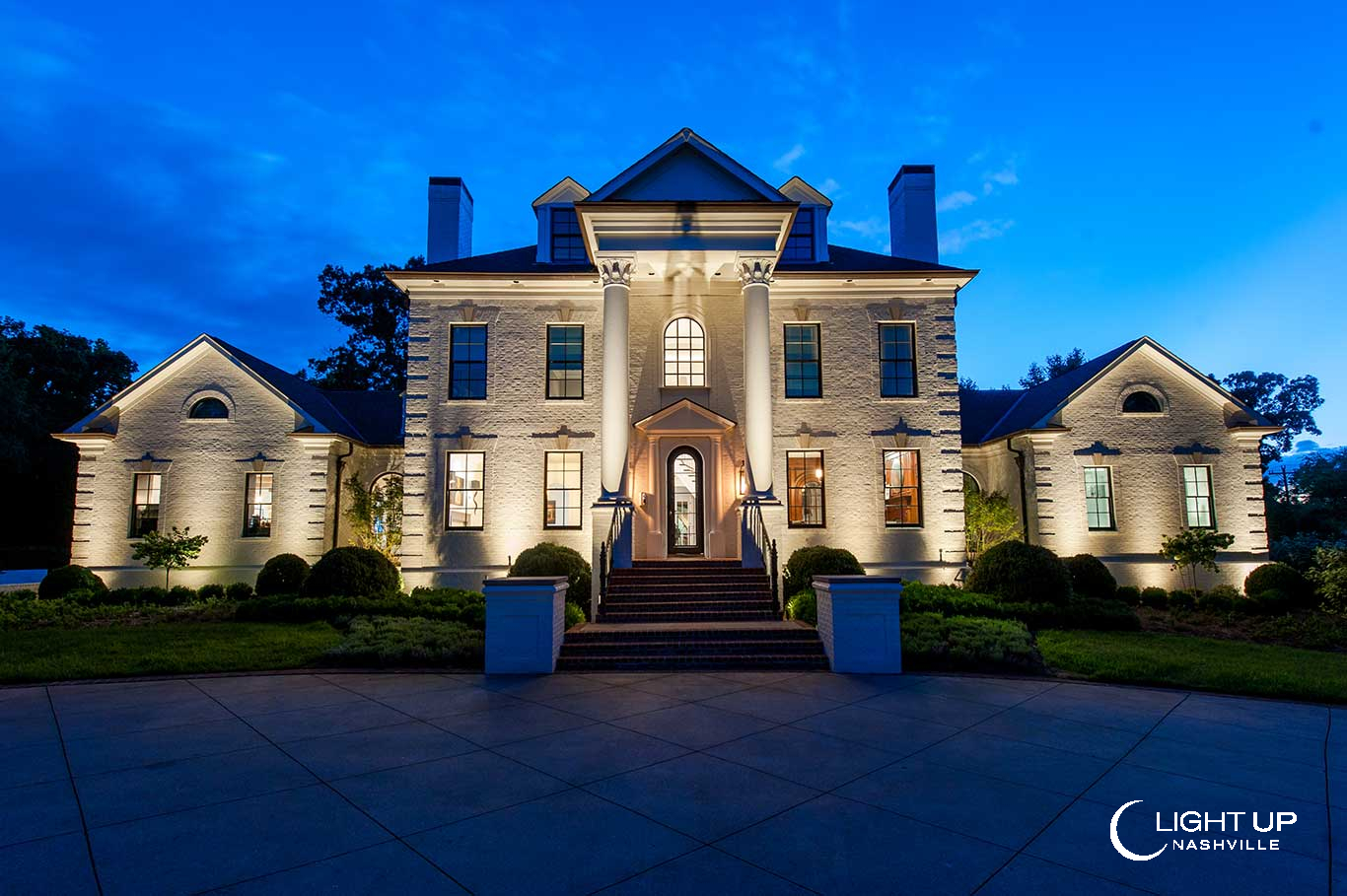 Make Your Home the Envy of the Neighborhood
Seeing is believing. Drag the cursor below to see the dramatic difference good lighting makes.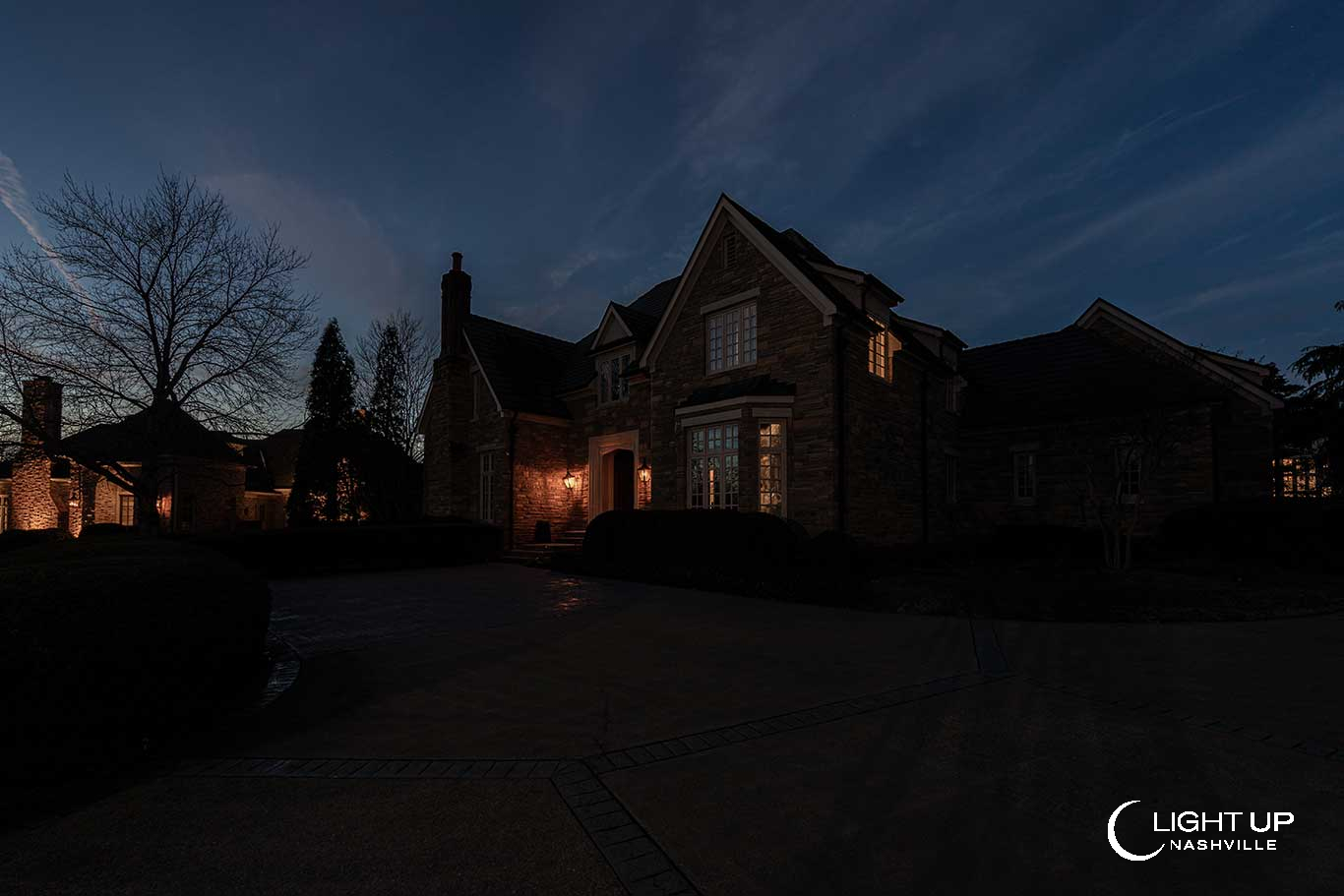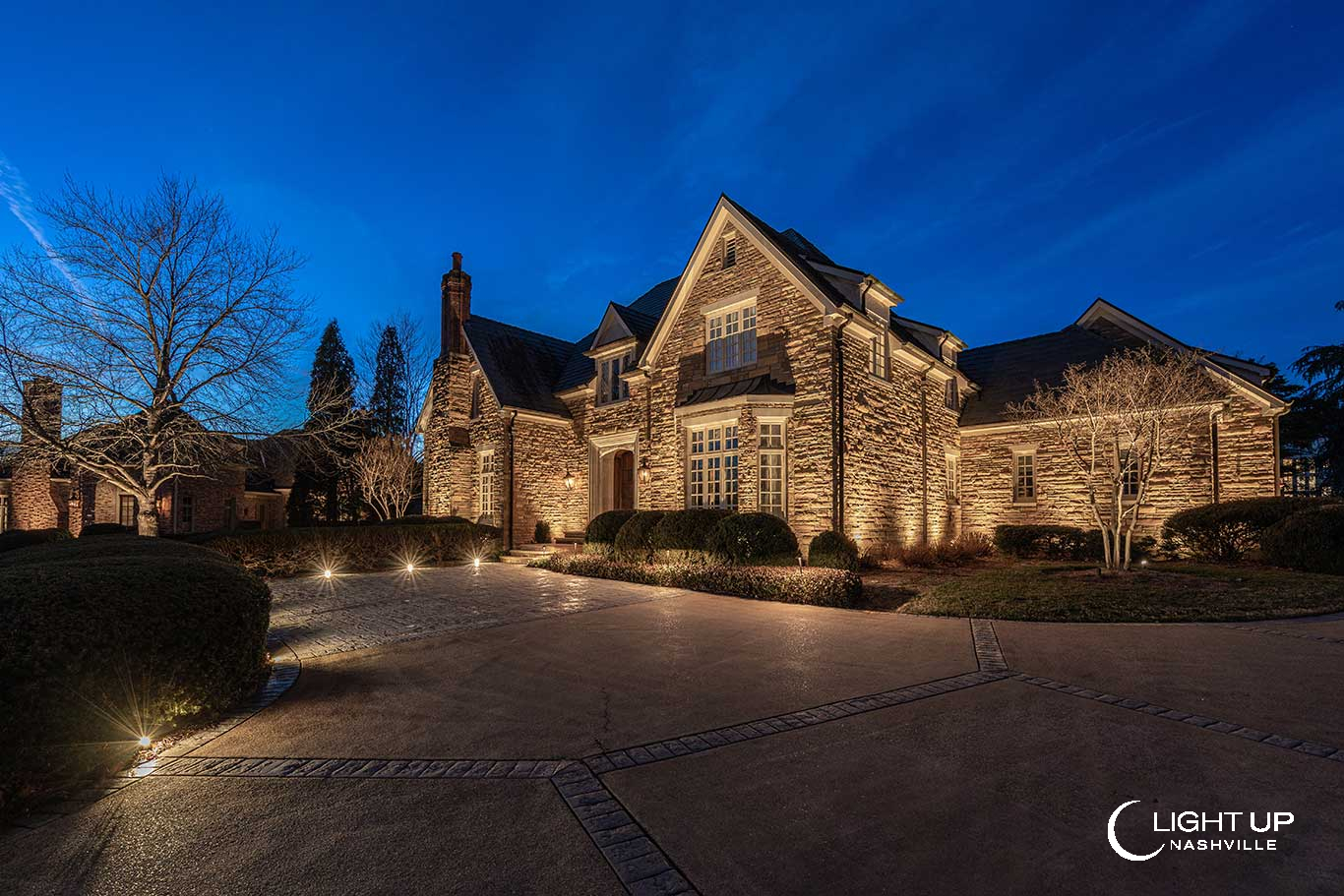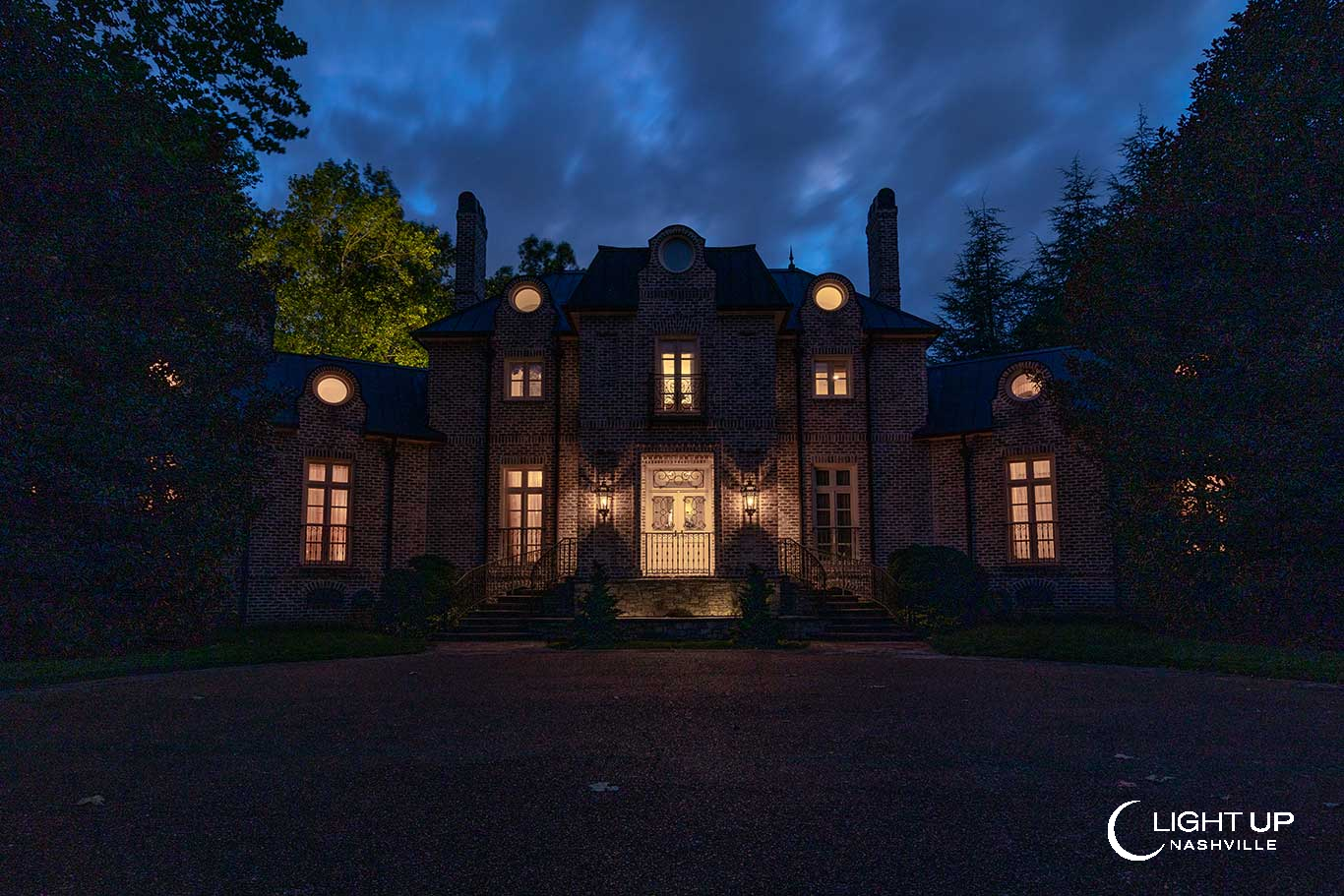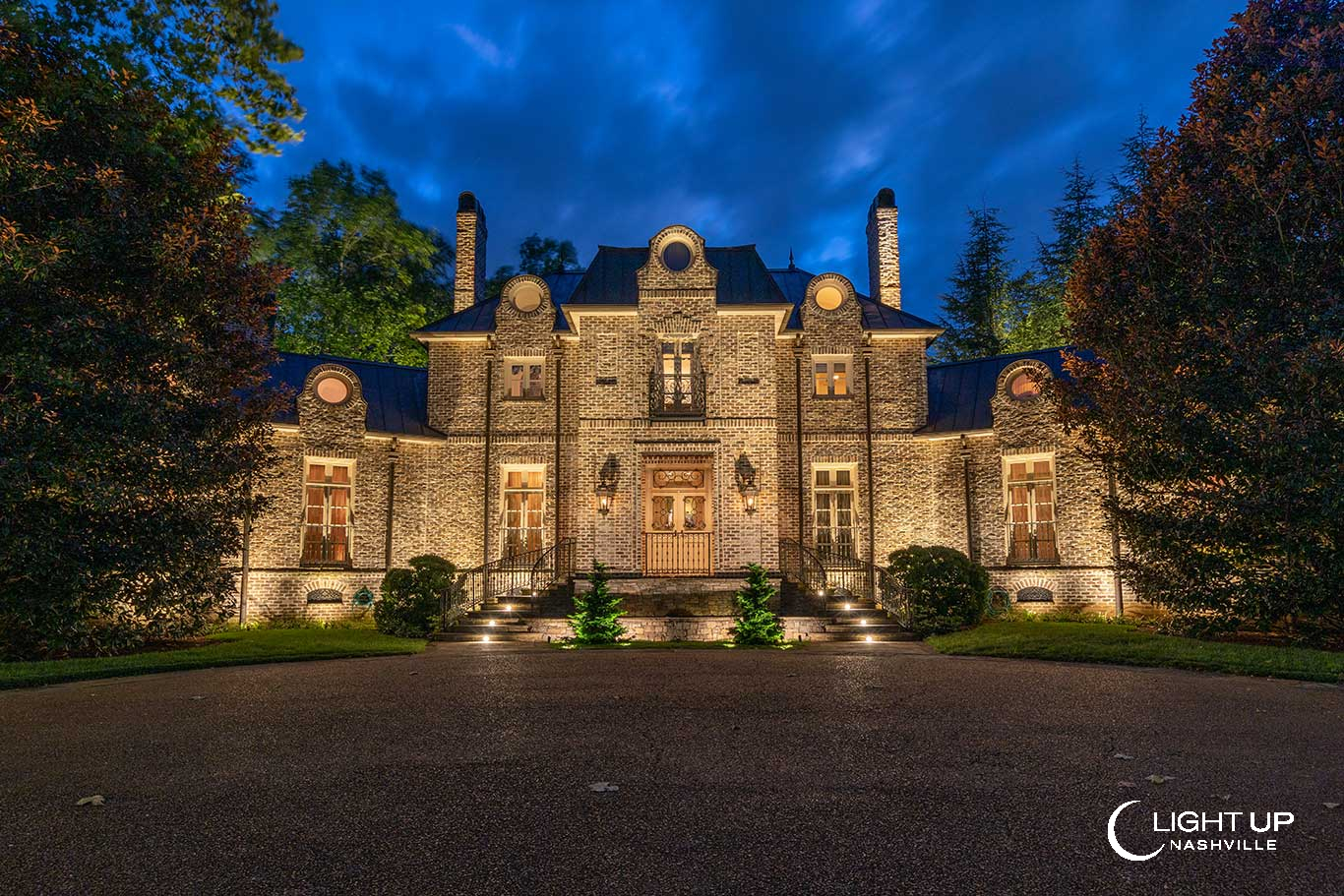 At Light Up Nashville, we provide professional design and installation of outdoor lighting for a variety of applications.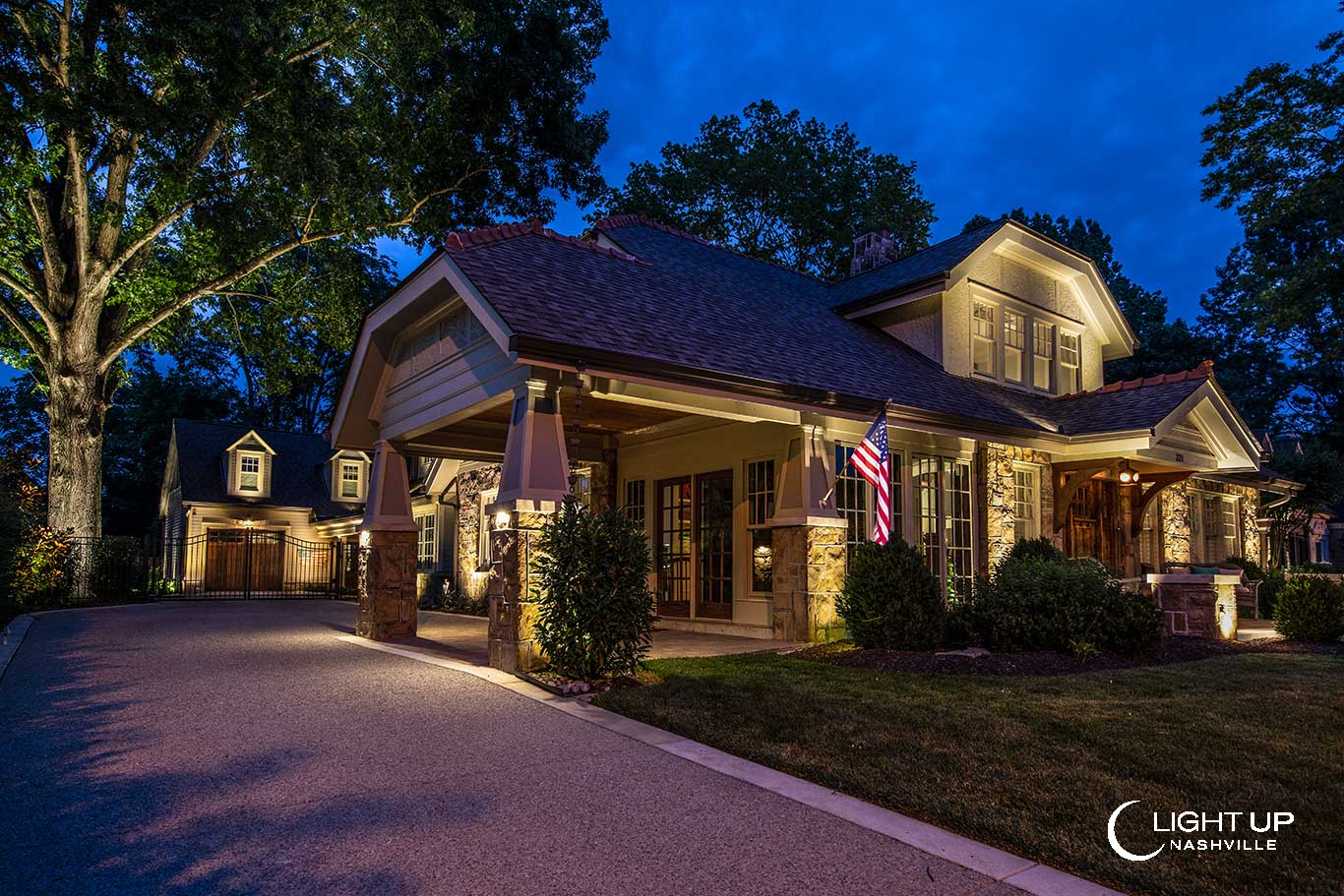 Even beautiful homes can look terrible after dark if they aren't lit well. Highlight unique architectural details, improve security, and be the envy of your neighborhood with architectural lighting.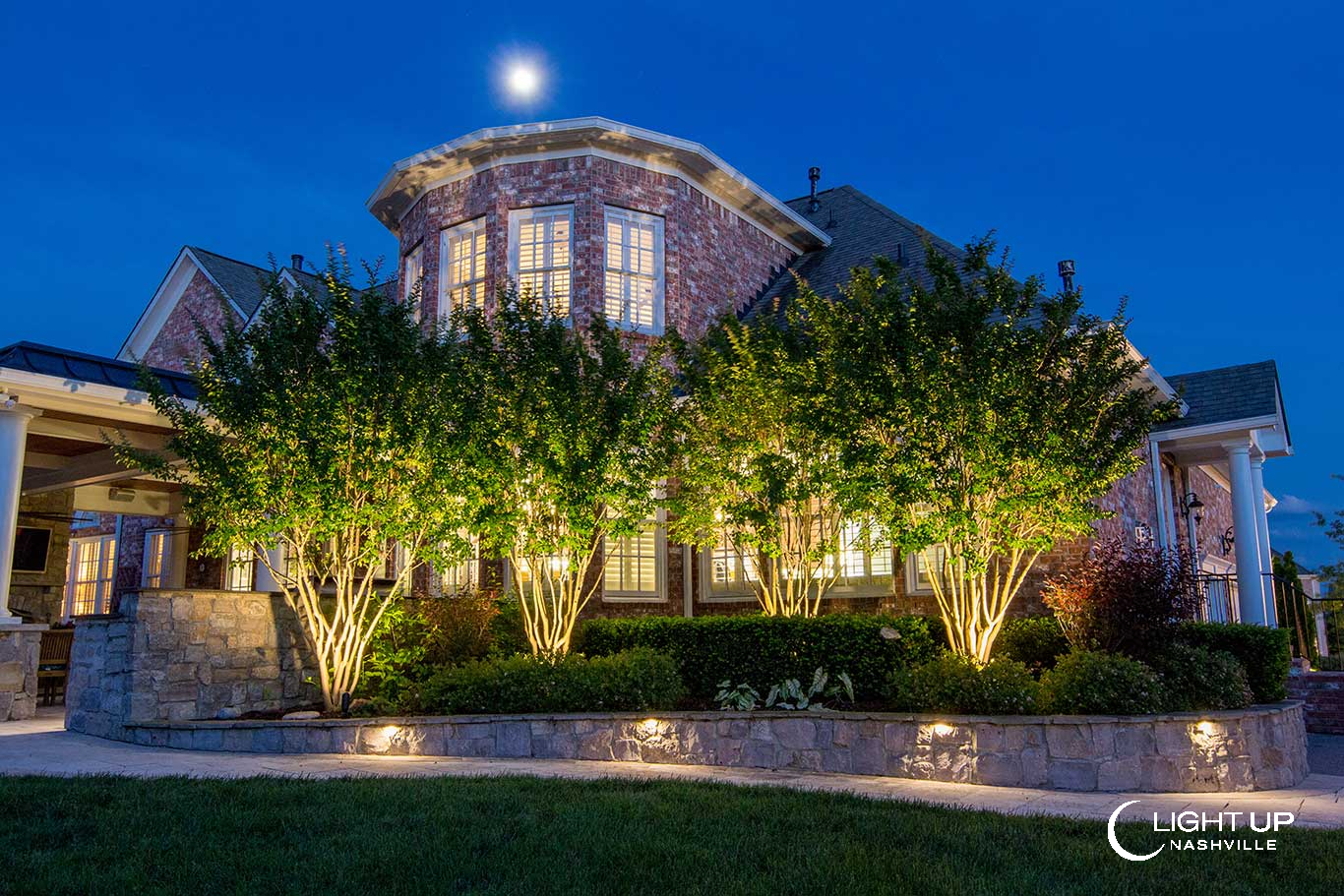 The best way to light outdoor spaces after dark, landscape lighting utilizes the trees, plants, and other natural elements to accent your home and make it easier to enjoy it in the evening.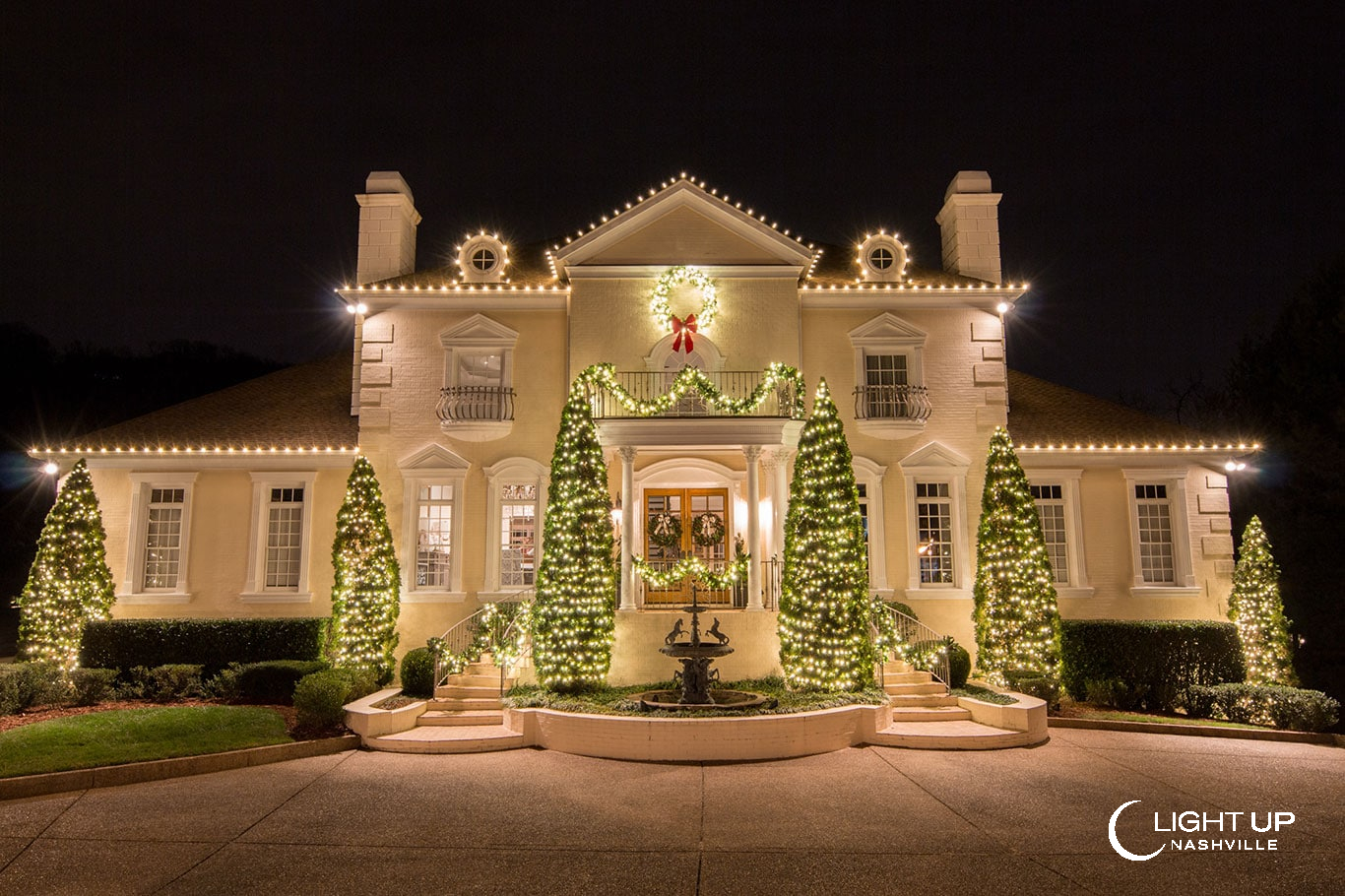 Ring in the season with Christmas and holiday lighting from Light Up Nashville. Our services include design, installation, removal, and warehouse storage for the remainder of the year.
What if your home looked like this in the evening?
Who you choose for your outdoor lighting project makes a huge difference.
Light Up Nashville gives you:
Award winning designs from a company focused exclusively on outdoor lighting.
Expert installation that will not disrupt your landscape.
Quality lighting products warrantied to last a lifetime.
Professional service and prompt response times when needed
Choosing anyone else could mean:
Generic lighting designs that do not address personal needs.
Questionable wiring and installation that could create safety hazards.
Cheap fixtures that require frequent maintenance or replacement.
Contractors who do not warranty their work or offer repair services.
Our simple three-step process makes it easy.
1. Schedule a home visit
---
Together, we walk your property and discuss your particular needs.
2. Get a quote.
---
We'll review and approve your lighting design together.
3. Enjoy your home day or night.
---
We install the lighting so you can enjoy evenings the way you've always wanted.
"If you're looking for the best, Light Up Nashville is definitely it!"
"In short, these guys are awesome. I don't leave many reviews, but (sadly) great service/quality isn't a given, and companies like this deserve to be recognized. The work they do is truly professional lighting – from design through parts to install – in a different league from the crowd of vendors and/or DIY. The owner, Pelham, is also deeply engaged in the business (despite its success) which clearly shows through. My wife and I are thrilled with how our house turned out. If you're looking for 'the best,' this is definitely it!"
G. Bucciarelli
Brentwood, TN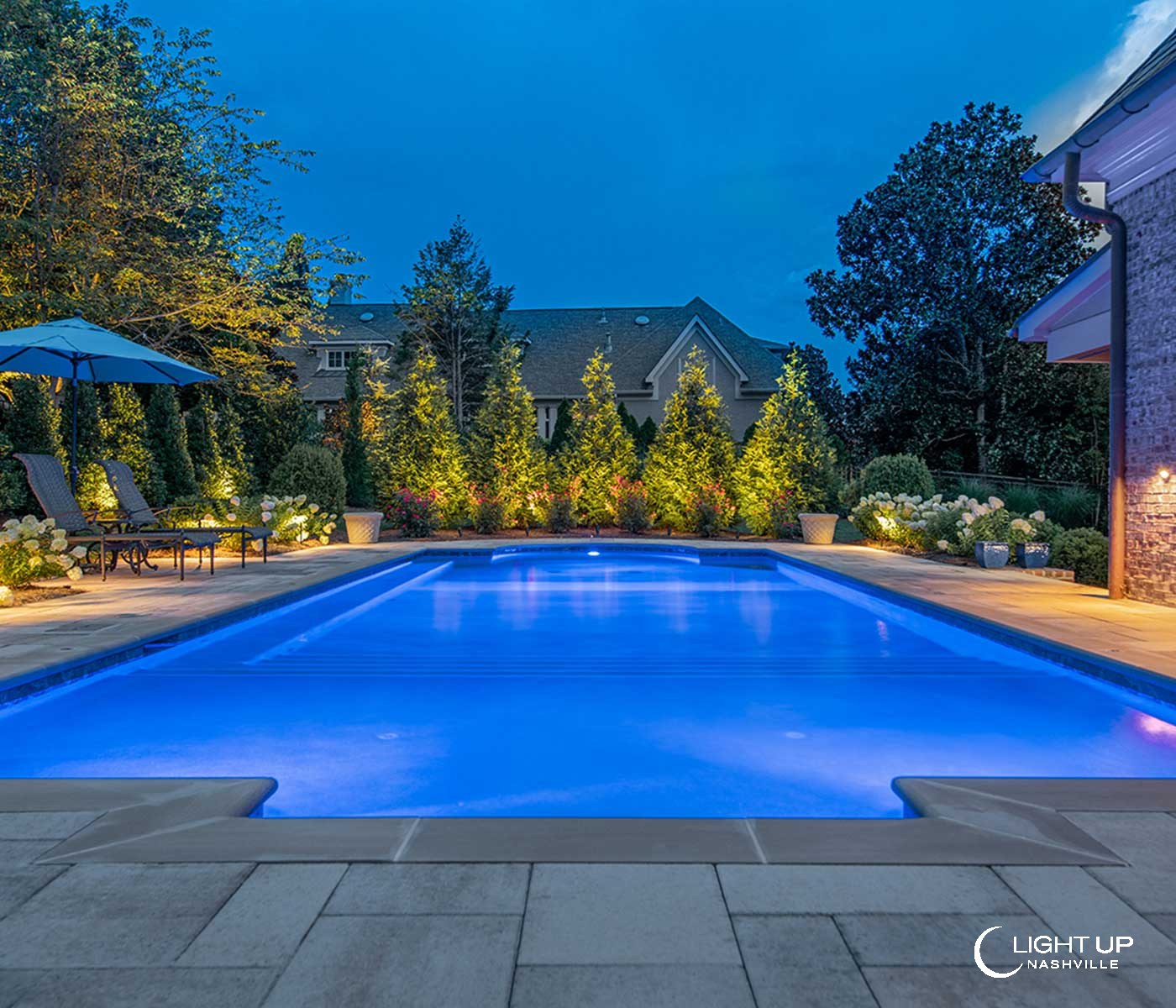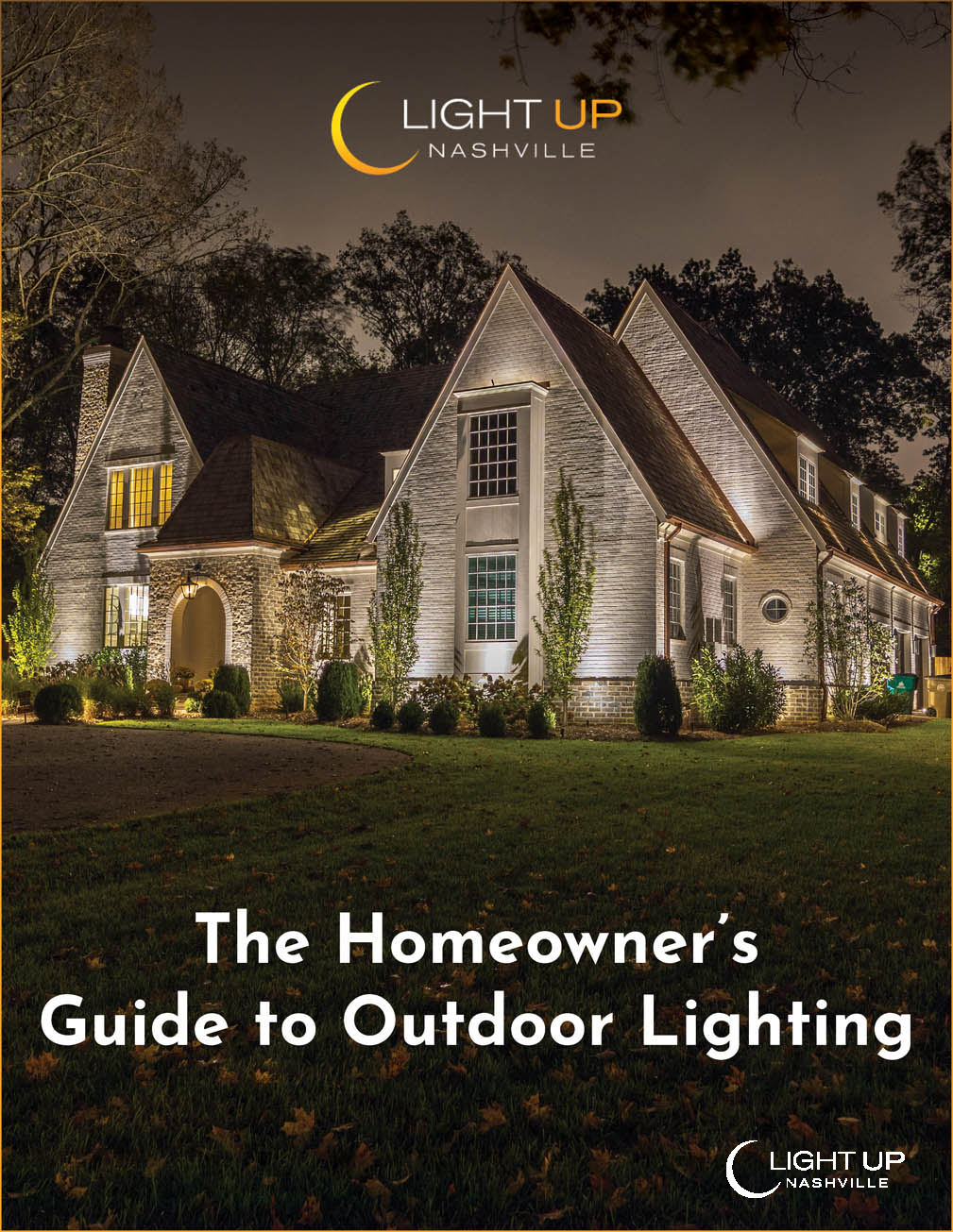 Get your free outdoor lighting guide to learn how to achieve the results you're looking for and discover the many benefits of exceptional oudoor lighting.
Don't let a poorly lit home keep you from enjoying time with family and friends.
At Light Up Nashville, we understand you want to enjoy your time at home to the fullest. That includes extending your outdoor activities and enjoyment into the evening hours as well. The problem is, most homes are poorly lit, making it a challenge to dine, entertain, and enjoy family activities in the dark.

As members of the Association of Outdoor Lighting Professionals and homeowners ourselves, we understand how frustrating it is not being able to enjoy nighttime activity. We specialize in outdoor lighting and have installed hundreds of professionally designed lighting systems in the most beautiful neighborhoods throughout the Nashville area.

We have developed a simple three-step process that will increase the value of and transform the way you enjoy your home.

Step 1: Schedule a complimentary lighting consultation where we will walk your property and discuss your particular needs.
Step 2: Receive a custom lighting design/quote we can review and approve together.
Step 3. We'll install the lighting so you can enjoy evenings at home the way you've always wanted.

Click on the link to Schedule Your Free Design Consultation.

And feel free to download our guide on How to Enhance Your Home with Outdoor Lighting. This resource will help you avoid lighting problems that result from inferior design and installation. At Light Up Nashville, we want to ensure you receive a dramatic new look to your home while providing purposeful lighting that will address your lifestyle needs.

Don't miss out on quality time with your family or let your beautiful home look less than ideal after dark. Improve safety on your property, take advantage of your home in the evenings, and become the envy of the neighborhood by scheduling your Free Design Consultation today.