Your Nashville Outdoor Lighting Company
Choose Nashville outdoor lighting services that are second to none. Serving Nashville and the surrounding area, our primary outdoor lighting service offerings are low-voltage outdoor lighting, Christmas or holiday lighting services, and outdoor event lighting.
Too many homes in Nashville don't have enough outdoor lighting to keep families safe or extend their time outside into the evening.
We specialize in outdoor lighting design and installation. Discover why we're the top choice in Nashville home lighting when it comes to top-quality outdoor lighting solutions.
We're not a franchise like many other outdoor landscape lighting companies, we're a local Nashville business. When you do business with us, you can rest assured you'll receive the highest quality service and products the outdoor lighting industry has to offer. Our reputation is hard-earned and well deserved.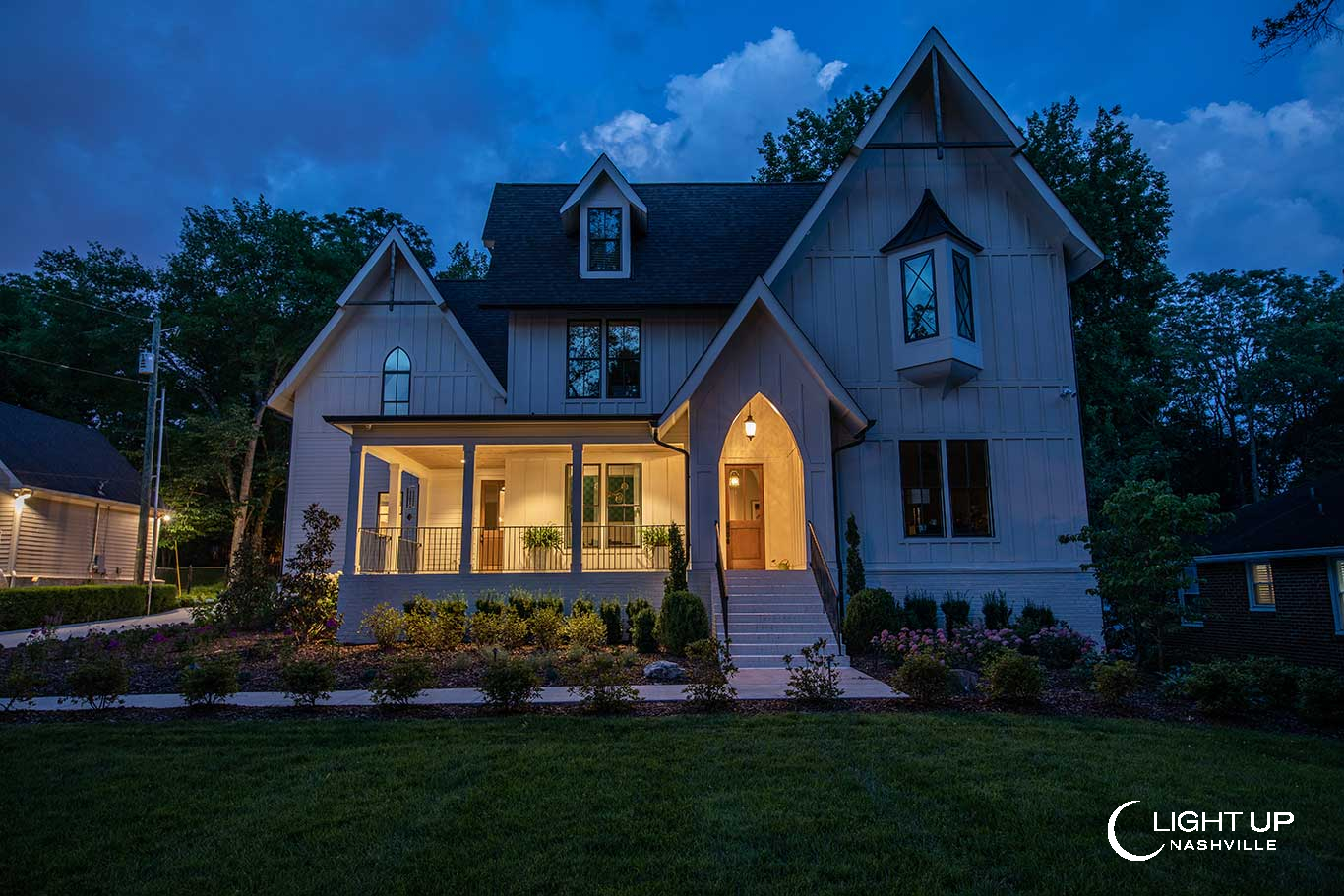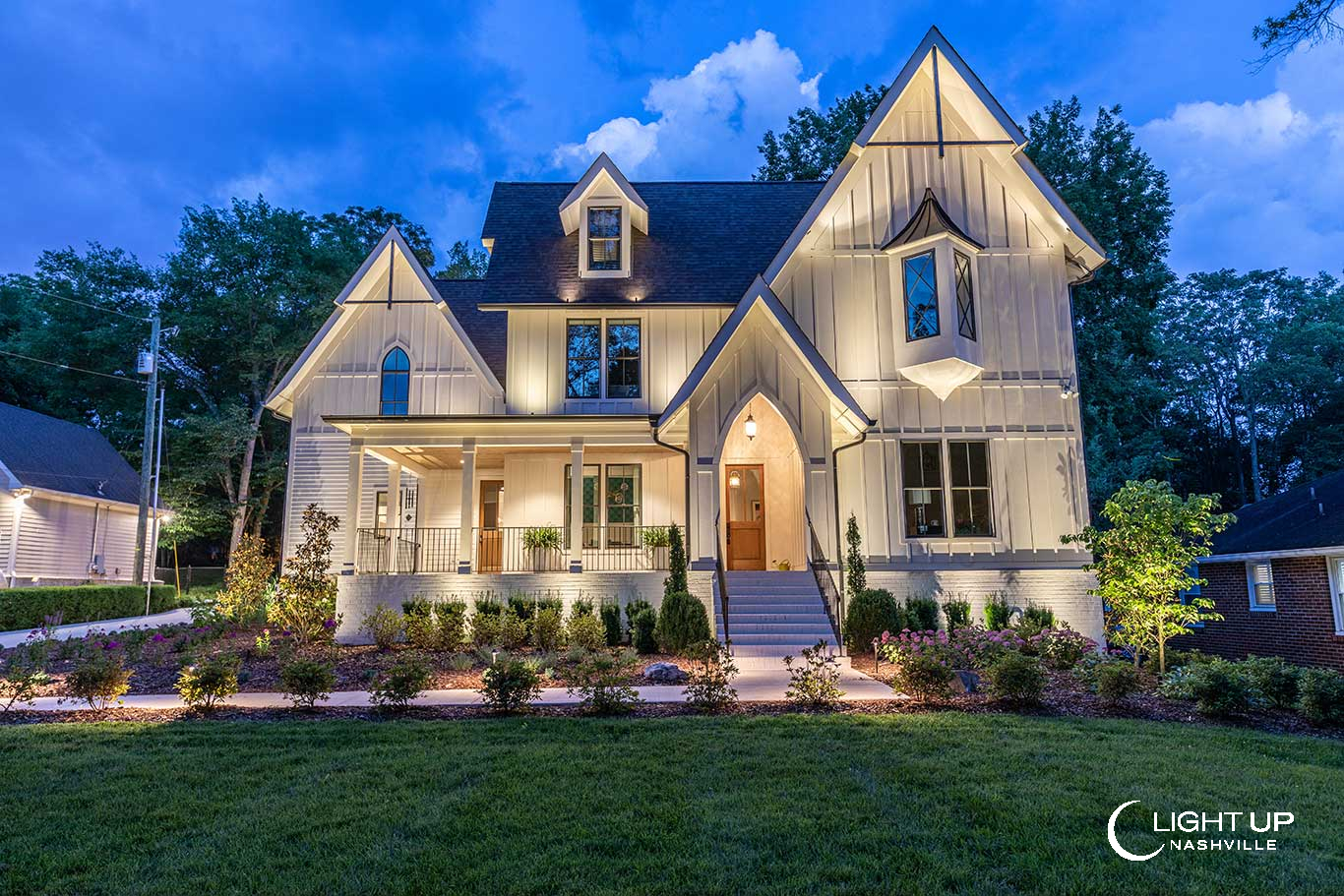 We provide Nashville outdoor lighting design and installation for a variety of applications.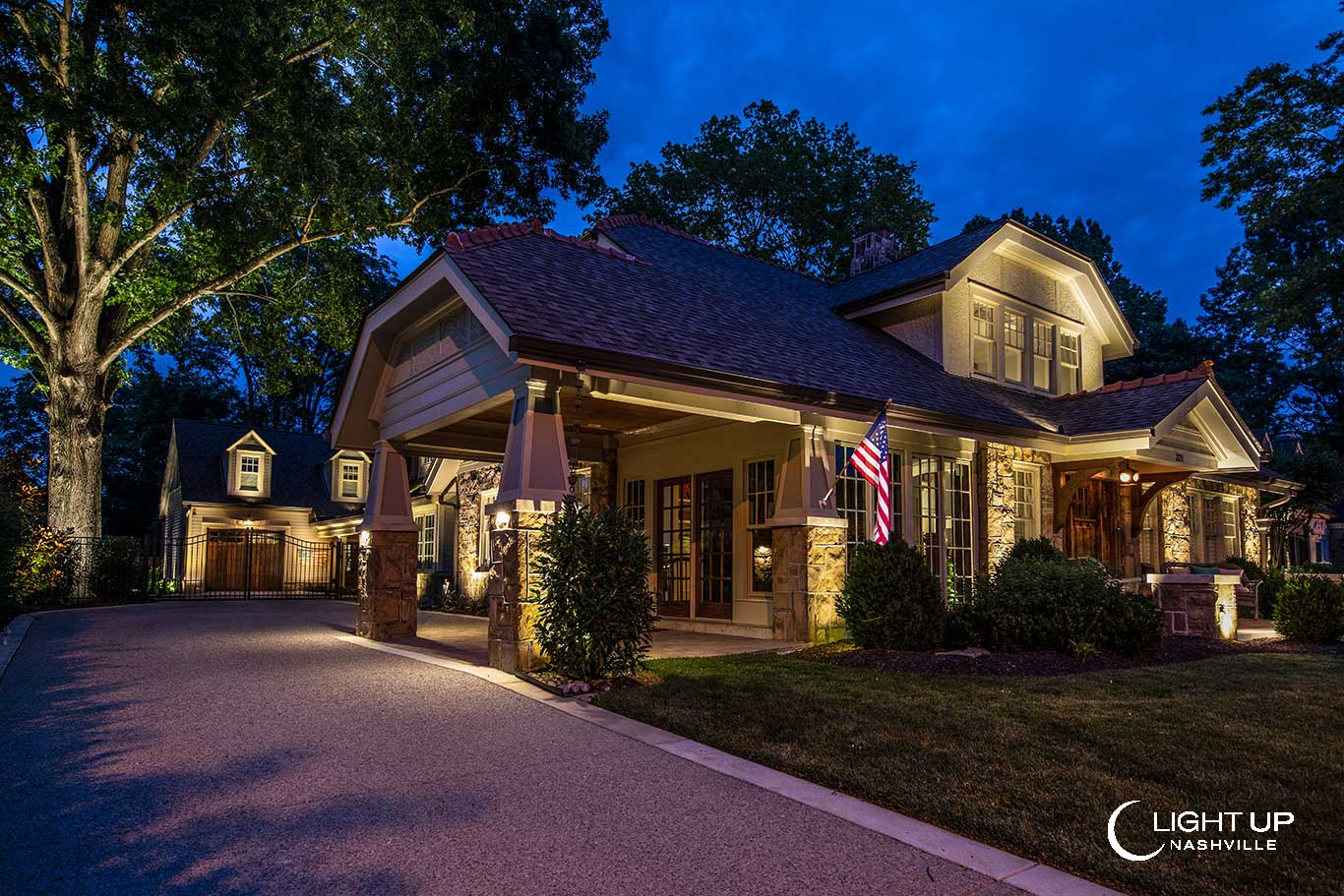 ---
Transform your Nashville home during the evening with custom designed lighting. Create a warm welcome home each evening that you will appreciate, and your neighbors will admire. Add an extra layer of safety and security for you and your family while you are home or away.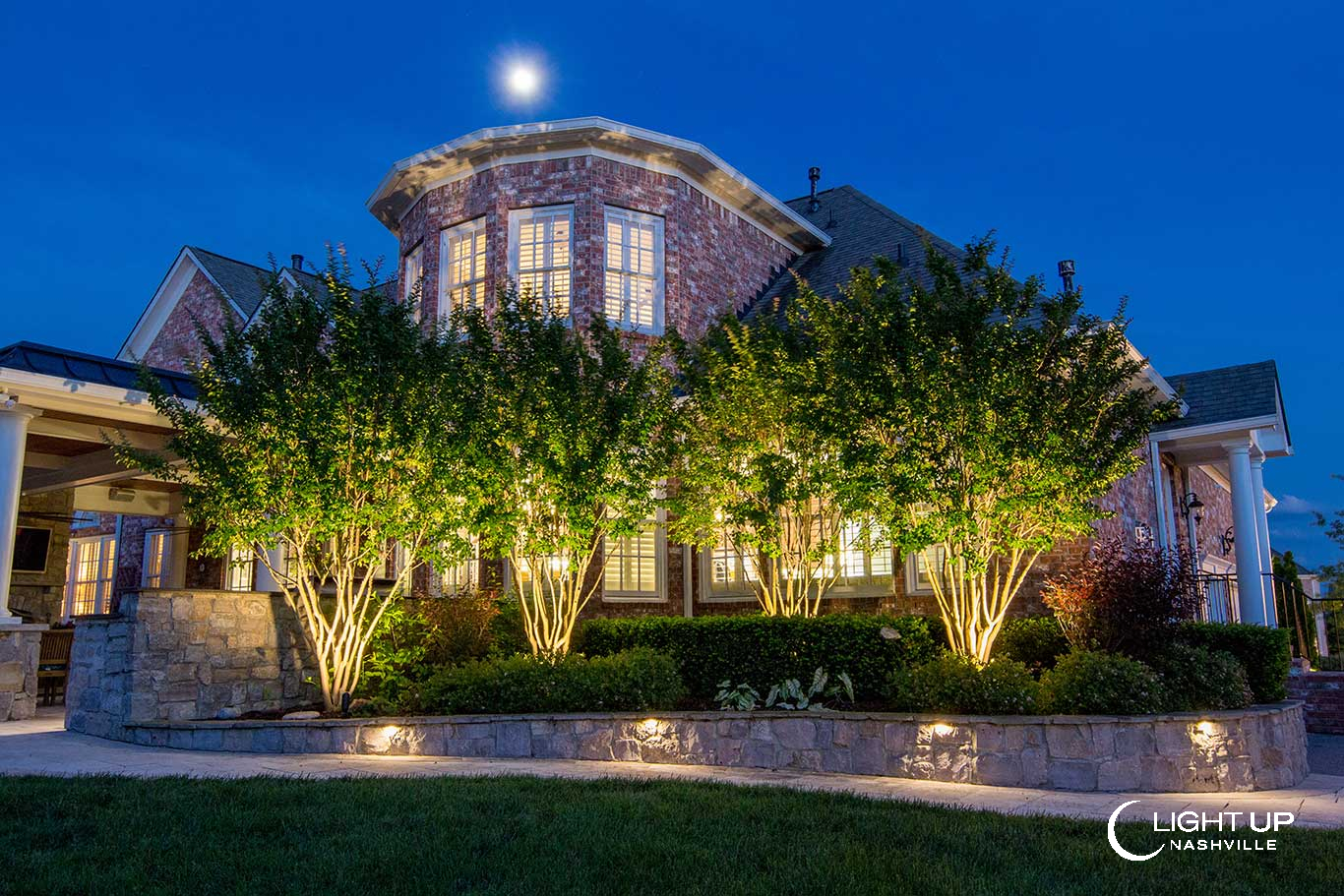 ---
A well-designed landscape lighting system creates an enchanting environment to appreciate when spending your evenings outdoors. Illuminating gardens, patios, pathways and pools allows you and your family to take full advantage of your home's amenities even after the sun has set.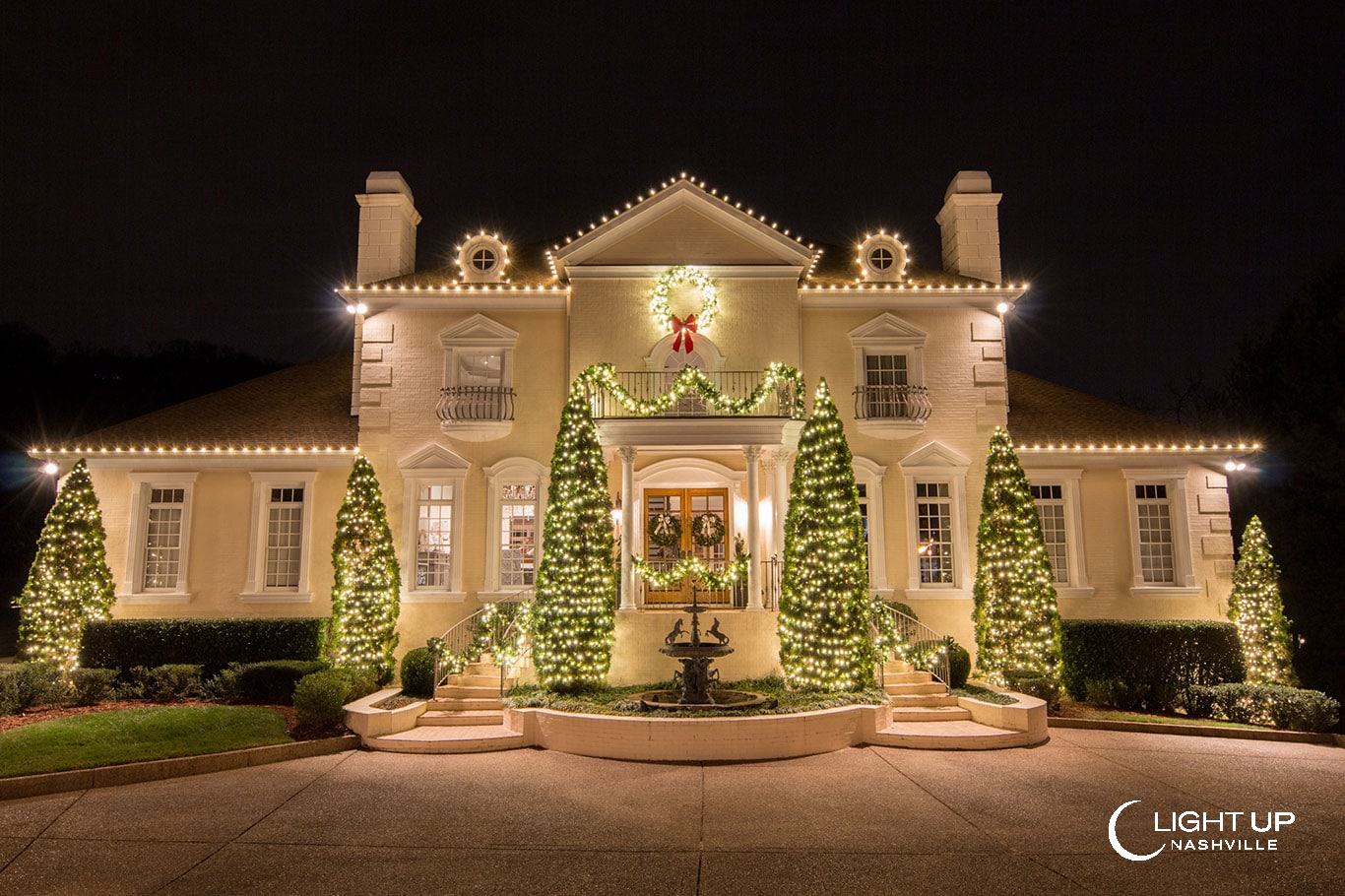 ---
Celebrate the holidays in style and create lasting memories with a customized lighting design. Stay focused on enjoying the season with family and friends as we design, install, remove, and store your lighting system for years to come.
When quality outdoor lighting matters, Nashville turns to us.
TRUST A PROFESSIONAL FOR NASHVILLE OUTDOOR LIGHTING NEEDS
Light Up Nashville was started with a simple concept: offer unsurpassed outdoor lighting services and products to Middle Tennessee. We aim to bring an artistic approach to our outdoor lighting designs. Founder and president, Pelham McMurry, noticed that most of the industry was filled with franchise lighting contractors who pumped out mediocre to poor quality fixtures through franchise owners with little or no artistic or creative talent.
We take the time to inspect our clients outdoor spaces, landscaping and architectural elements, then we analyze how we can enhance these spaces with light. By using different fixtures, bulbs, lenses, and unique light positioning, we maximize the lighting effect, resulting in beautiful homes and landscaping after dark. We're artists and light is our medium!
YOUR NASHVILLE OUTDOOR LIGHTING COMPANY 
Contact us now and let us show you how we can enhance the beauty and safety of your home and outdoor spaces in Nashville.
Not Just Nashville Outdoor Lighting – We serve clients all over Nashville, Tennessee & Davidson County, including the following suburbs:
Belle Meade
8th Avenue South
Goodlettsville
Oak Hills
Downtown Nashville
East Nashville

Green Hills

West End Avenue
Berry Hill
And many more!
Don't let a poorly lit home keep you from enjoying time with family and friends.
At Light Up Nashville, we understand you want to enjoy your time at home to the fullest. That includes extending your outdoor activities and enjoyment into the evening hours as well. But most homes are poorly lit, making it a challenge to dine, entertain, and enjoy family activities in the dark.
We get how frustrating it is when you aren't able to enjoy your home's exterior at night. For decades, we've specialized in bringing residents of Nashville outdoor lighting. Our team has installed hundreds of professionally designed lighting systems in the most beautiful neighborhoods throughout the Nashville area.
We have developed a simple three-step process that will increase the value of and transform the way you enjoy your home.
Step 1: Schedule a complimentary lighting consultation where we will walk your property and discuss your particular needs.
Step 2: Receive a custom lighting design/quote we can review and approve together.
Step 3. We'll install the lighting so you can enjoy evenings at home the way you've always wanted.
Click on the link to Schedule Your Free Design Consultation.
And feel free to download our guide on How to Enhance Your Home with Outdoor Lighting. This resource will help you avoid lighting problems that result from inferior design and installation. At Light Up Nashville, we want to ensure you receive a dramatic new look to your home while providing purposeful lighting that will address your lifestyle needs.
Don't miss out on quality time with your family, or let your beautiful home look less than ideal after dark.
Make us your Nashville outdoor lighting company.
Improve safety on your property, take advantage of your home in the evenings, and become the envy of the neighborhood by scheduling your Free Design Consultation today.